So last night I was on youtube and just going through my subscriptions (as usual since that is my life) and came across this video: So in my mind I am like why can't we understand Bane? So I went back to the trailer for the new Dark Knight (if you havent seen it yet check it here: ) and his mouth was obstructed with some metal piece of shit. WTF??? :S First I am going to do a wiki description of the origins of Bane: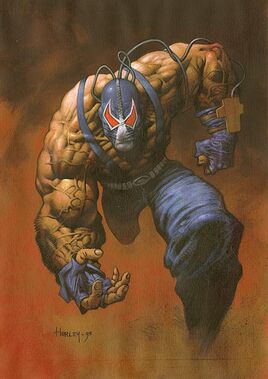 Fictional character biography
Bane was born in the fictional Caribbean Republic of Santa Prisca, in a prison called Peña Dura ("Hard Rock"). His father Edmund Dorrance had been a revolutionary and had escaped Santa Prisca's court system. The corrupt government however decreed that his young son would serve out the man's life sentence, and thus Bane's childhood and early adult life are spent in the amoral penitentiary environment.[3][4] Though imprisoned, his natural abilities allow him to develop extraordinary skills within the prison's walls. He reads as many books as he can get his hands on, builds up his body in the prison's gym, and learns to fight in the merciless school of prison life. Despite his circumstances, he finds teachers of various sorts during his incarceration, ranging from hardened convicts to an elderly Jesuit priest, under whose tutelage he apparently receives a classical education. Bane murders this priest upon his return to Santa Prisca years later. However, he commits his first murder at the age of eight, stabbing a criminal who wanted to use him to gain information about the prison.[4] During his years in prison, Bane carries a teddy bear he calls Osito (Spanish for "little bear"), whom he considers his only friend.[5] It is revealed that Osito has a hole in his back to hold a knife that Bane uses against anyone who bullies him.[3][4] Bane ultimately establishes himself as the "king" of Peña Dura prison. The prison's controllers take note and eventually force him to become a test subject for a mysterious drug known as Venom,[4] which had killed all other subjects; the drug is administered by a doctor who bears a passing resemblance to another Batman foe, Dr. Hugo Strange. Later, in Vengeance of Bane II the very same doctor encounters Bane again in Gotham and it can be confirmed that it is not Hugo Strange, who at that point in Batman continuity was a crazed psychologist and not a surgeon.[4] The Peña Dura prison Venom experiment nearly kills Bane at first, but he survives and finds that the drug vastly increases his physical strength, although he needs to take it every 12 hours (via a system of tubes pumped directly into his brain) or he will suffer debilitating side-effects.[3][4]
So now I am curious about the background and origins of Bane. I came across this and this looked quite legit when it came to the Cartoons: So check out these to see if some of what is said sounds legit?
Then as stated in the origins they did bring up Bane in Batman & Robin in '97 I think ( i was young :P )
But I think they kept the theory that he was doing life and he was the only volunteer that survived. But this new Bane seems like a big big disappointment.
So now I am sad that this is gonna be sucky!!
OXXO
Mayeshah!!!